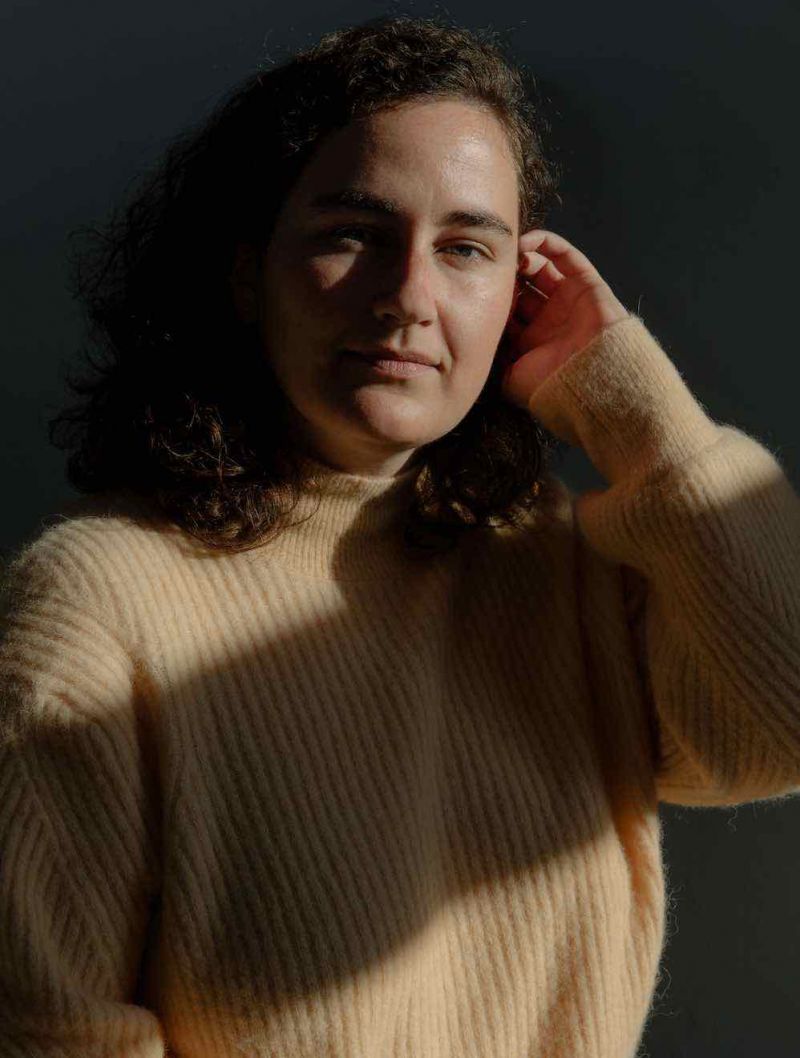 Vera Sacchetti is a Basel-based design critic and curator. She serves in a variety of curatorial, research and editorial roles, most recently as program coordinator for the multidisciplinary research initiative Driving the Human (2020-2023). Sacchetti teaches at ETH Zurich and HEAD Geneva, and in 2020 joined the Federal Design Commission of Switzerland.
Can you describe driving the human?
Driving the Human: Seven Prototypes for Eco- Social Renewal – an initiative of which I am Program Coordinator since 2020 – is a research initiative that will run for three years, one time only. It is jointly led by four partners based in Germany: the Karlsruhe University of Arts and Design; the Center for Arts and Media in Karlsruhe (ZKM); Forecast, a mentorship program based in Berlin; and Acatech, the German National Academy of Science and Engineering.
Driving the Human was started around a shared ambition to connect and exchange knowledge between art, media and science. The initiator of the program, Forecast, brought the dimension around the importance of learning and unlearning by changing our ways of speaking about certain topics. From 2020 to 2023, Driving the Human has the aim to support, nourish and accompany seven different visions for inhabiting the planet and to transform these visions into tangible realities.  
Why was this project started?
We felt we needed to get out of the old dichotomies, visions of the planet that we have been holding on to until now, because clearly, they've brought us to the moment of multiple crises that we find ourselves in today. It is the project's belief that through transdisciplinary ways of working, by connecting perspectives and learning new ways of speaking to each other, we can find new paths of thinking about how to inhabit the planet. How can we ask better questions? How can we come up with different, much needed narratives? This is what we want to explore. 
How does the project take place?
The project lasts for three years. During the first year, in 2020, we did a digital launch event (right in the middle of the pandemic) carried out by our partners. Together, we invited a variety of thinkers, artists, scientists, economists to reflect on what is needed and what is urgent today.  The discussions varied from a range of subjects such as technology, economy, human and non-human perspectives, access, education, knowledge, among others.
Based on those discussions, we came up with the premise of the project: an open call for visions of sustainable ways to inhabit the planet. We launched the call in different parts of the world and received more than a thousand applications from 99 countries. From those applications, we chose twenty-one, and we invited them to present their work in Berlin last October 2021 as "visions for eco-social renewal". It is also our belief that these proposals cannot live only in the heads of their makers. They need to be tested out with an audience, with real people, experts and other creatives. After the experience in October and from the twenty-one projects, we chose seven to proceed to the next stage of the project. Since then, we've been supporting those seven projects through residencies, connecting them with networks of scientists, artists and creatives, supporting how they want the project to grow, and generally nourishing their idea to become something tangible.
On November 25–27, 2022 we will be presenting the results of a year of nourishment. The results, presented at silent green in Berlin, are meant to be conversation starters. The idea is that even when Driving the Human ends, the seven prototypes should continue to live on.
How is the project funded?
The project is supported by the German Ministry of the Environment. The seven prototypes we are following have two years with us and one year where we focus specifically on their growth and development. We focus on this because once the funding is over, we hope that the prototypes will have encountered enough people and will have created their own network so they can live on. We want these visions, prototypes, ideas to be taken further and take up different meanings and different forms. The idea is that it's not just about what you see, but also about the invisible connections and relationships as well as the web of connections created around a similar objective.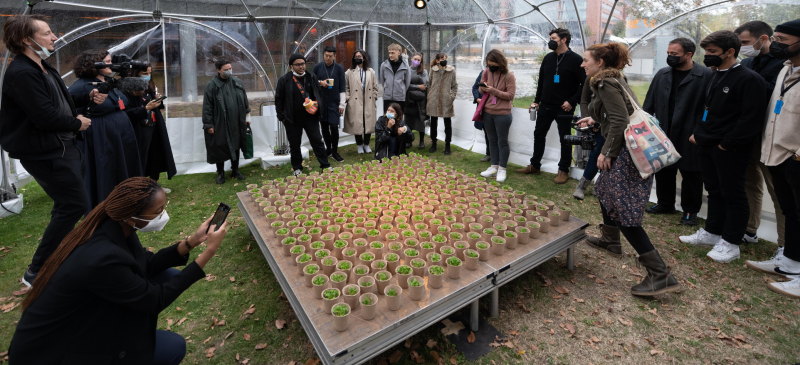 Do you have an example of what these projects look like?
For example, Sedekah Benih is a project that comes from Bandung in West Indonesia, and the team running the project is composed of artist Vincent Rumahloine, community leader Mang Dian, and a large network in Bandung and in Indonesia. They started a community garden during the pandemic, which quickly became a network of community gardens that act as meeting points for people to exchange knowledge about plants and gardening techniques.
This project recuperated connections to ancient agricultural techniques that have been erased by colonization in Indonesia, and spread it again. The ancient ways of working with plants pre-colonization have a lot to do with music, and include the use of a specific instrument called the Karinding. Sedekah Benih recuperated the knowledge of playing Karinding in specific ways during the planting and during the harvesting. These community gardens also became a meeting point for people part of a demographic population that might not talk to each other, as some of the participants belong to the LGBTQ community and are not accepted in this part of the country or, they might belong to different social classes, etc.
With Sedekah Benih, the local impact is huge and the exchange of knowledge visible: from the community leader to the scientist, from the botanist to the artist, together, they are trying to find ways in which these spaces can continue to be productive, creative and free for imagination and knowledge exchange.
Another project that we are working with is called Monsters and Ghosts of the Far North. It's run by AlternA, a team of two architects, Andra Pop-Jurj and Lena Geerts Danau, from London and Belgium respectively. They have been developing an alternative cartography of the Arctic territories. In a time of climate change and political tensions, the Arctic has become a very contested territory – it always has been, but even more recently so.
Traditionally, mapping is a way of othering and creating a distance to the things that you are seeing. They are working from non-human perspectives to create a connection to the other actors from this territory and to understand its many layers differently. Last October, they presented a video game from a simulation generated by data that had been collected. The video game presented how you could engage with this territory through the eyes of, let's say, a Methanobacterium stuck in the ice, a sheet of ice, a bird, a fish…  By playing this game, you can understand this territory in a more embodied way – a way that is not distant to you, a way in which you can experience it.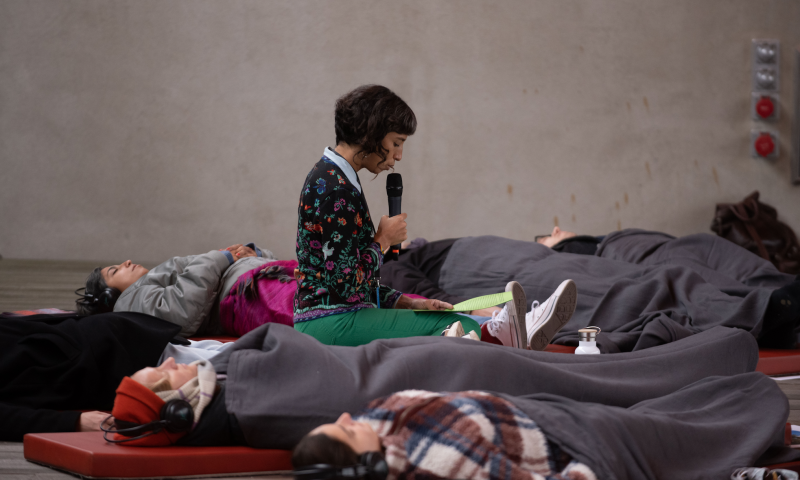 How would you define the method?
The method is present in the overall structure of the project. It uses strategies developed by Forecast and builds on the importance of collaboration. Collaboration in the way guest experts are invited, in the way in which the projects are presented to the public (at regular intervals so that they can be tested, questioned and probed), and in how these projects situate themselves in the public setting and how they progress, or not.
Also, the four partners behind Driving the Human are shaping the project constantly by choosing the priorities and bringing their ideas to the table. It is through a collaborative effort that ultimately the prototypes are chosen or not. These decisions are informed by a cohort of experts invited at significant steps in the process.
How do you evaluate if your project works/worked, or not?
There are no boxes to be ticked. I think the project needs to make sense for the goals we set at Driving the Human. The selected group of seven prototypes is quite an international group, and the themes that are touched upon range on a diversity of issues. From indigenous knowledge to cartography and mapping; from non-human agency to ambitiously deviant uses of AI. We have a very technological side and a hands-on, making-type side. We have a scientific side with for example the prototype of Human-Bacteria Interfaces, and an artistic side with The Backpack of Wings project, which gives inner life to Jonas, a migrating stork.
If we pre-create borders for ourselves when we interact with these types of projects, we will never be surprised. There are already too many preset ways of seeing the world. If we don't allow ourselves to be surprised, we will never get out of the dichotomy we questioned at the start of Driving the Human. Whatever the goal is, it has to respect the ambition of those diverse perspectives. I would say that the ultimate goal of the project is to support visions for eco-social renewal. The prototypes need to tick that box, but it's a very big, vague, and gigantic box.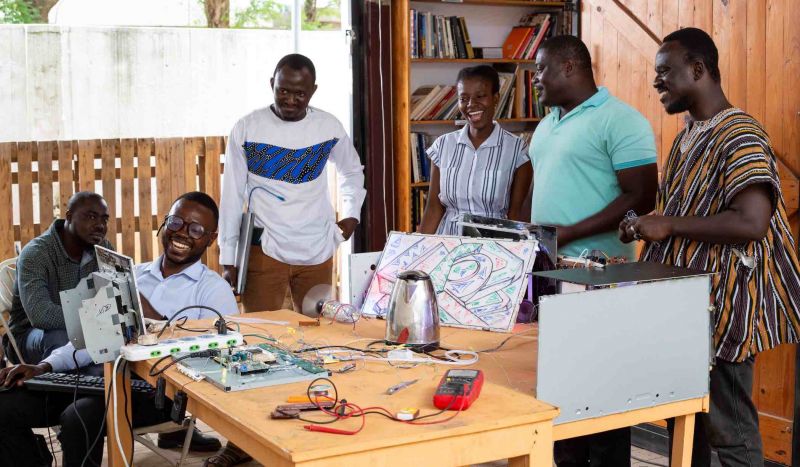 What change would you like the project to produce?
Because the project is funded by the German Ministry of the Environment, the ambition is big. It's not a project that we want to keep exclusive: if the government is supporting a project like this, it means that the results of Driving the Human will reach the level of policymaking, and government officials. Of course, we already know that they are already having conversations about these topics, but it's also very good that they are willing to experiment and to support a process that is so open-ended and empirical. It's a good thing that Driving the Human will reverberate at those levels, it needs to be a conversation starter to change policies.
What publics do you work with, why, and what do they do together?
The audience of our project is young, in their late teens and twenties. They are also a generation of young people that do not feel represented by the political class. If you inspire a younger generation as well as a generation already determining today's culture and politics, and if you make sure to reach a variety of age ranges and social backgrounds, clearly these types of projects will echo and inspire youth to also get involved in change-making.
Driving the Human is about showing possibilities, it's not about finding the solution like a discourse that goes towards solutionism. It is not about finding the perfect five-point plan – we have seen that these approaches don't work. It's about opening up, and allowing people to dream, to be inspired, to think of different narratives, to tell themselves and tell others different stories.
And, why not? We have a young generation and an official ministry supporting the project so we are getting attention from different places in the spectrum… And then, who knows what's going to happen?
How can you tell a project succeeded?
When you have a funding body, you need to conduct reporting and evaluations. The easiest of these are the ones that measure how many people we've reached with our events, how many people follow us on Instagram, how many people read our newsletter… In this sense, the prototypes at the heart of Driving the Human participated in several different exhibitions in different parts of the world; they also did residencies in places like Iceland and research trips to Peru. And maybe that's a measure of success.
However, I think the measure of success is ultimately something that you have to agree on with whoever wants to support you. Because you will always be asked for guarantees of success. When you are going into sets of experiments, there are no guarantees of success, so if people are open enough to support this kind of work, I suppose they can question what the traditional guarantees of success are. If you are okay to question methods of doing, you also have to question how to measure its success.
Are there references you'd like to share
The major theoretical reference behind Driving the Human was Critical Zones, the exhibition and research project at ZKM. Bruno Latour's ideas, as they manifested in Critical Zones, were definitely a starting point. One that informed the making of the first festival of Driving the Human, at the start of the whole initiative.