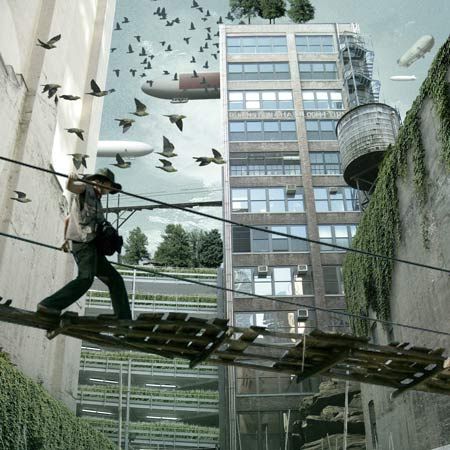 The Plurality University Network has launched a collaborative and open exploration around the futures of Mobility, using arts, fiction, design and utopias as its primary material of study. We are calling on you to be part of this project!
Mobility (spatial, social, etc.) is both a central aspiration for most people and a key challenge of our time. It is also a lens through which many other contemporary issues can be examined: work, places, time, change, inequalities, climate, migrations, social bonds, technology, culture, etc.
Many changes seem to be ahead for Mobility, from which it's hard to draw a coherent picture: Climate change, urbanization, ageing (in the North); Digital as a tool for, or substitute to physical mobility; Inequalities and their effect on access to, places and resources…The list could go on, and would likely not be the same in different geographical zones or populations.
A great number of excellent projects have looked at the possible futures of mobility. "Moving On, Moving Up, Moving Around" takes a different standpoint: instead of starting from what we know, it will start with what we are able to imagine and build on fictional material to get there.
Why
Because there seems to be a lot of things to (re)invent when we think of mobility (for example: How can we simultaneously move less, for ecological reasons, and more, either to escape local conditions or to reach what we aspire to?) → Arts and fiction can open up the conversation to new ideas, help us escape the current paradigms of mobility.
Because mobility is a cultural issue as much as it is technical or economic (for example: How to reconcile a 1st-person vision of mobility as freedom, with the perception of others' mobility as invasion?) → Arts and fiction can diversify the views on the futures of mobility.
Because everybody has dreams and dreads around mobility, not just mobility experts and pros → Arts and fiction can broaden the conversation on the futures of mobility.
How?
"Moving On, Moving Up, Moving Around…" will proceed in three different phases, of which you can be part in several ways:
Collect "fragments" from the future in arts, fiction, design, utopia: images, texts, new words, movies excerpts, sounds, that say something about the futures of Mobility. You have one or more of those in your library, your mind, your computer, your bookmarks, your camera. Your friends, colleagues, students do as well. Share them! How? Either directly online, on the MovingOn platform (launch: mid-march) or even by email; Or by taking part in or organizing a MovingOn workshop (we will provide a guide). When? March-May 2020. What will this produce?* A repository of "fragments" on the futures of mobility, that you and anyone can draw upon, and that will form the basis of phase 2.
Curate, map interpret the "futures fragments" by intersecting with pros, experts, researchers and other stakeholders – including, of course, those who experience the affordances of, and barriers to mobility, which means everybody. How do these fragments present themselves to you, as sources of surprise, shock, challenge, controversy or inspiration? How? Either by making and sharing your own selections, or by organizing Curation and Mapping workshops, (a guide will help you organize these workshops). When? May-June 2020. What will this produce? Curated sets of fragments, Maps and other representations of mobility futures.
Project yourselves and others into alternative futures of mobility, by working together between artists, experts and non-experts to produce new insights, stories and directions. How? By taking part in, or organizing, multidisciplinary workshops. These will typically be longer workshops (2-3 days), ideally organized during the summer.
When?
In 2021.
What will it produce?
New stories, frescos, fictional artefacts, and other proposals on new mobility paradigms; Transformational dynamics whereby participants engage in making their vision a reality.
Then What?
An open-access publication will gather the project's productions. All material will remain online and usable for future projects by anyone. The methods used will be turned into open-access guides in order to be reusable. Time to turn these visions into actual experimentations and projects!
Interested? Write us!